Feb 12, 2020 - Dec 09, 2020
Bluegrass Jam's
---

Jul 11, 2020
Demolition Derby
---

Aug 22, 2020
Demolition Derby
---

Sep 17, 2020 - Sep 20, 2020
Maryland Steam Show
---

Sep 24, 2020 - Sep 27, 2020
Upperco Music Festival
---

Nov 28, 2020 - Jan 03, 2021
Upperco Yuletide Village
---

Dec 05, 2020
Breakfast with Santa
---
View All Events
2020 Incidents
FIRE
EMS
JAN
28
64
FEB
28
61
MAR
28
46
APR
20
40
MAY
31
38
JUNE
JULY
AUG
SEPT
OCT
NOV
DEC
Total
135
249
Past Incidents
FIRE
EMS
2018
408
689
2019
393
649
Web Counters
Website Visitors
Since
August 26, 2017

Visitors Today
Jul 09, 2020

Upperco Community Gives Back
By Member, Jen Haslacker
April 16, 2019

On April 5, 2019, Upperco Volunteer Fire Company responded to a mutual aid call in Hampstead, MD for a rescue. When units arrived, they found 27 dogs and 11 deceased dogs. Several of our volunteers describe the scene as one of the worst they have ever assisted. The surviving dogs were transported to the Humane Society of Carroll County, where they are being treated. Some rescued dogs have already been returned to their previous owners, thanks to microchips.

Upperco VFC started a campaign on their Facebook page called "Operation Rescue" on April 7, 2019. This campaign was to raise donations to assist with the care of the "Black Rock Dogs". Within hours of posting, several community members dropped off items. Items included dog food, towels, dog bones, and cleaning supplies.

On April 16, PIO, Richard Blesser packed up the donated items and took them to the Humane Society of Carroll County. While we were not able to see the dogs, we were told they are doing well given the circumstances and that the donations will be able to assist in the dogs rehabilitation.

Upperco VFC would like to thank their community for the doggie donations . It's this type of giving that makes our community so very special.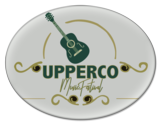 Helpful Links